Update on 5g Three Broadband (as was Relish broadband)
See 2015 blog on the 4g Three Boadband product
I get on the phone to dump Relish (Three Broadband), giving up the £30 a month contract after some years with them. I was getting better connection and upload speeds on my phone. My phone uses the same Three's Network 4g or Vodafones' 4g (it's dual sim). Setting my phone as a hotspot was better than using the Three home broadband hub. Time to give up on the 4g Relish (Three) home broadband hub.
Three Broadband then said 5g was now in my area, so I was sent the new Huawei 5g hub/router (over £350 to buy). My testing went ahead using wired ethernet from hub to PC.
5g is only JUST available in my flat in only one spot, at an impossible to mount area within one bedroom. Then it seemed that if I made any adjustments to the router firmware, such as change the LAN IP range, the router lost its ability to find the local 5G signal. It would only find 5G tower after a hard reset. That is all support would suggest.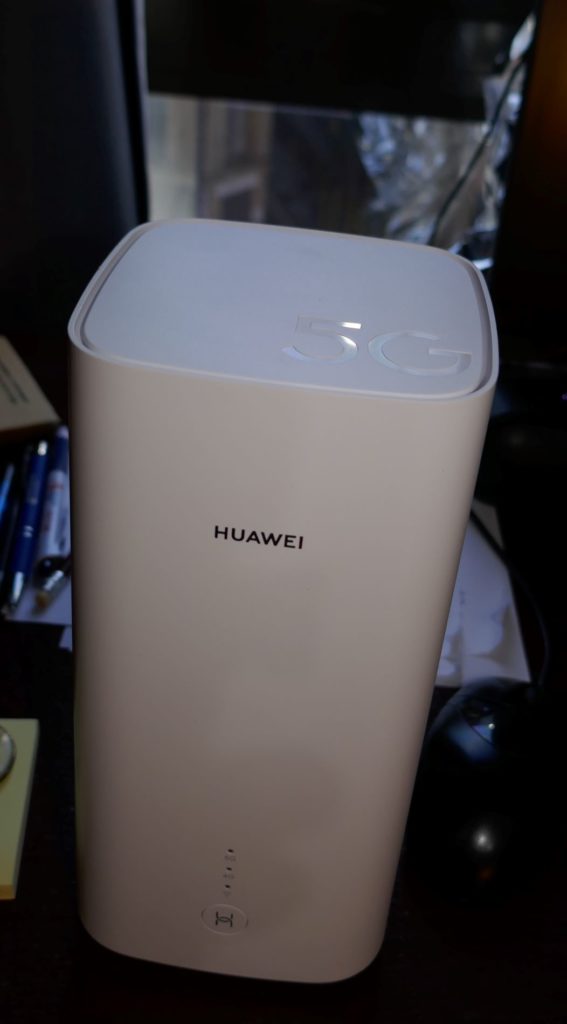 Huawei H112-370.
The best 5g I got was with the hub router propped up on books in one precise spot was 100MB/s. What was most disturbing was the fractional upload speed, best at 2.8Mbs. Everywhere else in the flat is it the hub dropped down to 4g but at least that gave better upload speeds of 4-6Mb/s
Best with 5g: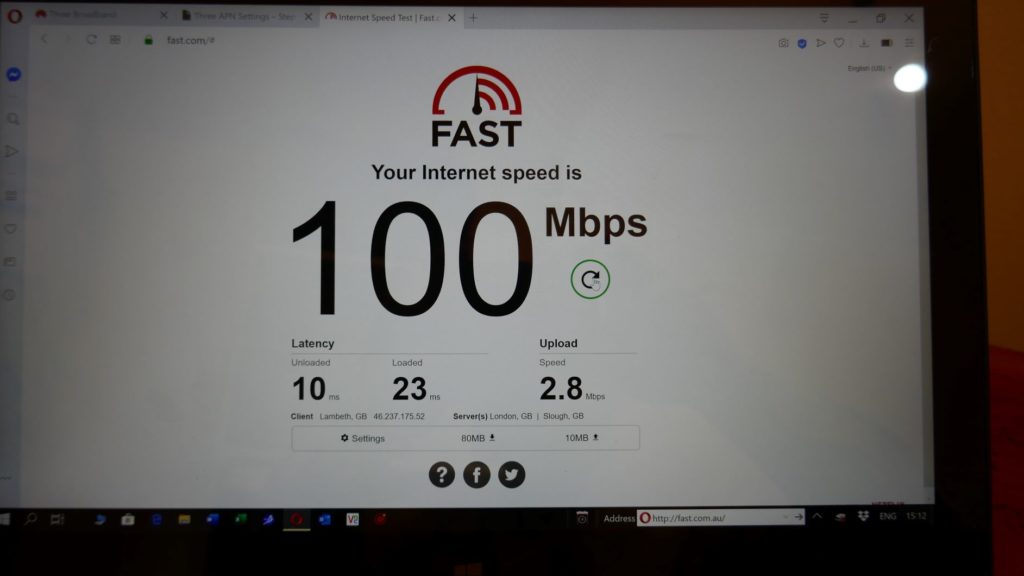 Three Broadband will not tell you what upload speeds to expect, talking rubbish that it depends on various factors, but those factors would also affect download speed, although I accept transmission power is lower from the hub. One the other hand power is needed for reception's download handshaking so I would have thought factors affecting download would affect upload to the same extent. Perhaps 5g is more complex.
Three Broadband refuse to give any indication of an upload guide number, and simply state "it is not guaranteed". That is all they will say. Three Broadband's refusal to give any technical details to users is something Ofcom should look into. We should know what we are buying. Upload speed and with latency are crucial factors for a useful broadband connection; download speed is just on factor and is a bigger number. It is the only one they like to headline. Funny that.
They probably refuse to quote any number because upload is deliberately throttled. This was the case with their original Relish 4g hub (again this was never mentioned anywhere on their web site). The best upload speed I got on 4g on Relish hub was 8MB/s despite downloads of up to 72Mb/s . Most 4g SIMS in phones are pretty much synchronous, you get similar upload and download speeds unless the network is busy. I gather some "5G" systems split upload and put upload back onto 4g. Perhaps this is what Three does, but seems slower than when the hub is using 4g. All very odd.
The hub is not locked, so I was able to put my 4g Vodaphone SIM in the Huawei H112-370 hub this afternoon, a busy period in central London (things here speed up evenings and weekends). This afternoon it gave 72Mb/s download and 20Mb/s upload.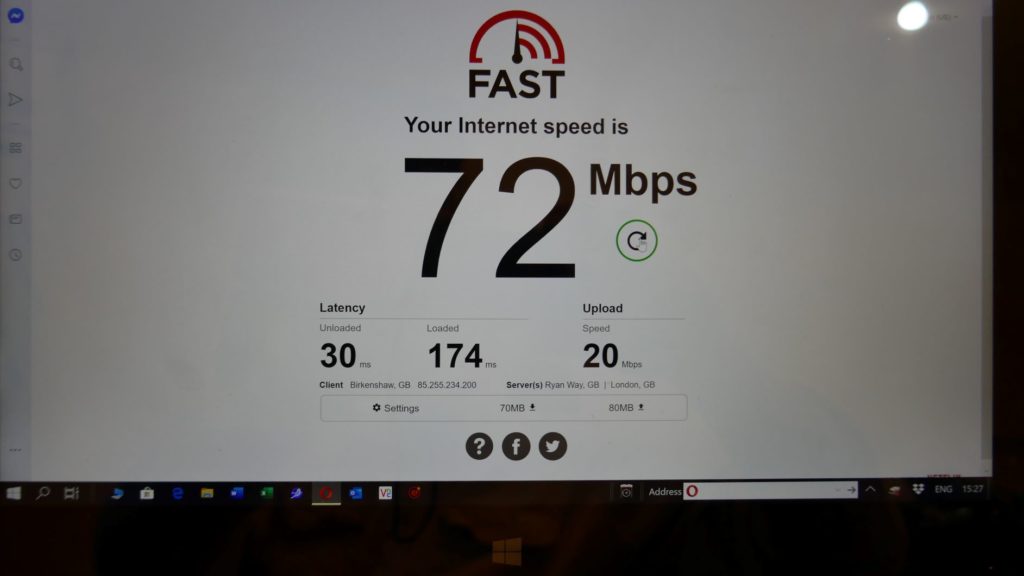 Using 4g Vodaphone sim in the Huawei hub this busy afternoon in central London.
In the evenings on 4g phone sim I often get 98Mb/S with 70Mb/s upload, or uploads can even faster than download.
So I am sending back the Three Broadband 5g hub. 5G is hardly here at all, and upload speeds are atrocious.
5g here is giving 100Mb/s download with upload throttled to 2.8Mb/s, that upload speed is a fraction of what normal 4g offers. There is no question that the better option is still 4g and is cheaper. I plugged in a 4g USB modem into my Draytek router with a Smarty sim, which gives unlimited data, decent upload speeds at £20 a month no contract. Done deal while waiting for the block to get fibre installed. Hyperoptic fibre cable is synchronous and we get at our other flat 700Mb/s up and down with low pings. 5G can wait because there are some nasty marketing practices bordering in fakery here. Deception of customers by deliberate omission, made worse an outright REFUSAL by support team to state the facts.
Gerry Bulger
https://bulger.co.uk/message.htm
[BL]DVD, MP3, LCD, Plasma, HDTV, Home Theater[/BL]
Compare Preços de: DVD, MP3, LCD, Plasma, HDTV, Home Theater no Buscapé.