Archway Development and Consulting Ltd

C21
9 Herbal Hill Gardens
Clerkenwell
London EC1R 5XB
Company NO 3326461

London and Hertfordshire.

ADC provides medical administration consultancy and IT support

Also ADC delivered computer network systems using SCO Unix, Linux and Windows systems for all companies, but particular interest in NHS. Typical system installation:


Allows any machine in your office to have access to all files with password protection on a central server within the office with distributed email at yourdomain.co.uk (com, org, ltd).
Server (Linux, Windows or SCO Unix), for all files and secure backup systems; tape and onto spare machines.
RAID Servers (hot swappable hardrives in event of a drive failure).
Firewall broadband router connections to Internet or Intranet for all on the in the office also using proxy server if required. VPN Home and Office allowing home working.
VOIP with dedicated phone numbers
Email servers
Secure home working with minimal line charges or via broadband .

For simple home brew VPNs see here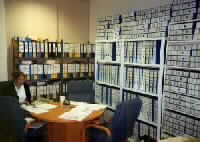 Filing this way should cease!