D
ASH Personal Medical Services
A grouping of Three Personal Medical Service G.P. practices in Hertfordshire within Dacorum Primary Care Trust.
The grouping was one of the first to take single-handed doctors into Personal Medical Service Contracts, ahead of the implementation of the NHS Plan and new GMS contracts. It is designed co-operative services while maintaining the perceived benefits of the smaller practice. By joining forces in this way we hope to protect our smaller practices. We share a doctor. "Single-handed" practice no longer exists unless you are on Sark, since G.P. employ other doctors and work within a larger team.

In 2000 we attempted to join up all the smaller practices in Dacorum into this grouping. Two of the small practices that were discouraged by the Primary Care Trust from joining have since had to close their doors (in Tring and Markyate) and added to the national decline in small practices.

During the preparatory phase we considered various options to run this group, including forming a single PMS partnership. However this was deemed to be impractical, especially under the obligations of the new core contract. There would have been considerable difficulties with tax and employment law at the very least. The practices operate from three buildings a few miles part from each other. The solution has been to have a contractual agreement to co-operate and share resources while working under three identical PMS contracts. In effect we are three PMS pilots working with a shared "growth" budget.
The PMS project was live from April 1st 2001. Dr Colin Andrews retired from his practice in 2005. His surgery has since been taken over by
Dr Muyiwa Ojo-Aromokudu. He has since moved his surgery to Gossoms End, when we hope to expand activities to include further minor surgery. Gossoms End may expand its primary care services considerably over the nex year.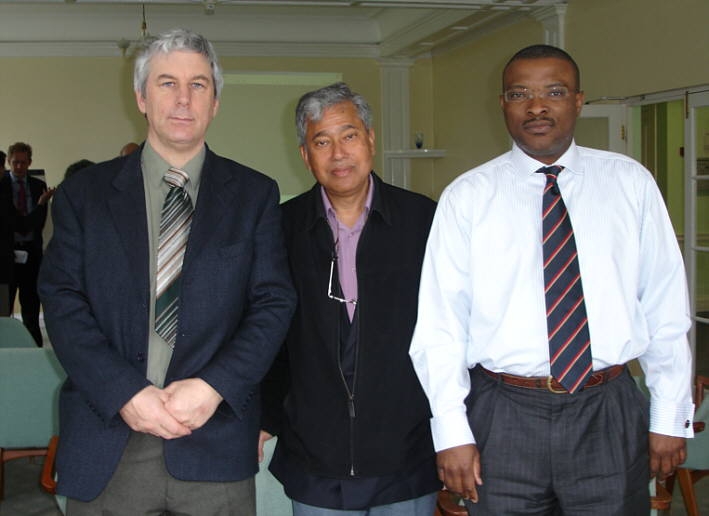 Dr Gerard Bulger Dr Shailendra Bhatt Dr

Ojo

-Aromokudu Muyiwa
Bovingdon Hemel Hempstead Berkhamsted

Archway Development & Consulting Ltd
54 High Street
Bovingon
Herts HP3 0HJ
Tel 01442 817217
Fax 01442 879647
email here
Registred in England
Company No 3326461
Registered Office
C21 Herbal Gardens
9 Herbal Hill
London EC1R 5XB