New Doctor in Charge of Archway Surgery
Dr Omar Rahim BSc (Hons) MBBS (Lon) MRCS (Eng) MRCGP
(GMC Reg 4213385)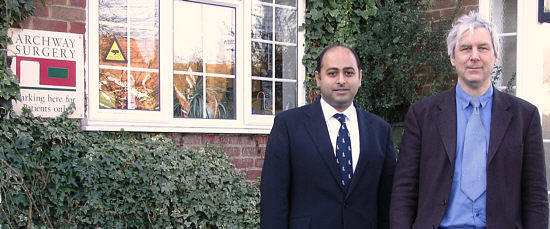 Dr Omar Rahim Dr Gerard Bulger
Dr Rahim came in partnership with Dr Bulger in October 2006. Dr Bulger left in July 2007. He has been working with Archway Surgery on various projects over the last few months and is seeing patients in the surgery. He became the Number One Doctor at Archway from 1st April 2007, assisted by Dr Abby Hyams.
The new web site for Archway Surgery is moving to www.archwaysurgery.co.uk
Dr Rahim has an impressive CV. His secondary education was at Latymer High School Hammersmith. He trained at Guys and St Thomas United Medical Schools: that is the only blight on his CV-- Drs Crabtree and Bulger trained at Barts.
He trumps us on prizes awarded while training, listing seven of them. He gained his Membership of The Royal College of General Practitioners in 2001 with Merit. He has Membership of the Royal College of Surgeons (MRCS) and Diploma of the Faculty of Family Planning. He is an instructor in Advanced Life Support (ATLS).
He did his G.P training under Dr J Patel at the NAP Practice and Longmeadow next door to us, finishing in 2001 so he knows this patch very well. Since then he has been gaining further experience in General Practice working in Luton and further a field.
He lives this side of Watford.
Dr Rahim will be a huge asset to the practice and re-invigorate the whole team. His Membership of Royal College of Surgeons and will be able us to enhance the number of procedures performed at Archway Surgery.
His arrival will allow me, Dr Bulger, to spend time developing outpatient and diagnostic services in the locality, especially important now that it looks as if Dacorum is to lose services at Hemel Hempstead Hospital.
He brought with him Dr Abby Hyams MBBS MRCGP who was one of the main doctors at Archway working with Dr Janet Crabtree for the first 6 months She also has been at the Nap, and trumps as all by passing Membership of the Royal College of G.P.s with Distinction. She is now has a partnership at a practice in Hemel
4th February 2007
Updated 18th February 2008