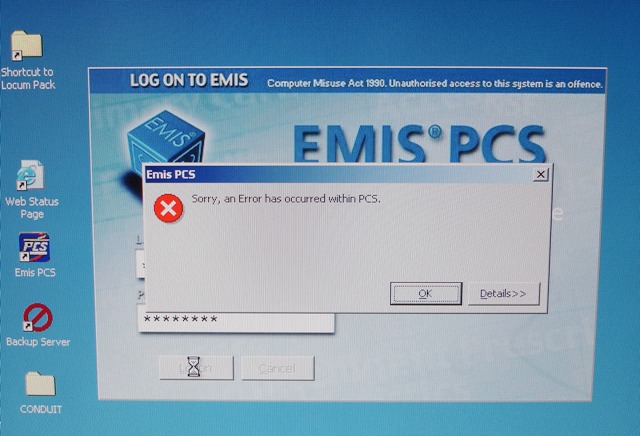 General Practice clinical systems have been developed for over 25 years now, and to date have been fast, good, ergonomic and do what is needed within practices. The move to hosted systems, and to window interfaces are making matters worse. Technical progress is making the systems less useful, and now are increasing costs on surgeries in staff time needed to get jobs done. Add to that the need to conform to Connecting for health requirements we have a toxic mix that reduces the ease of use and functionality of systems.

GP systems have moved on from the telnet (dos box) type sessions to windows interfaces. This is not usually a good ergonomic move, but the systems look prettier, and easier to sell, but are worse to use. Creating a GUI which is fast and efficient is a complex design task, and I'm afraid it is that EMIS seems to have been worst of the GP clinical systems in achieving something useable.

I have used all the major clinical systems, but EMIS PCS is by far the worst system out there. This is based on my experience with EMIS PCS at three quite different settings, large and small surgeries and at a prison over the last three years. To me EMIS PCS is a sort of stripped down version of EMIS LV system with a poor and slow interface.

The windows interface mixes mouse, keys and quick keys very poorly and randomly. You often have to reach for the mouse. That is no good in front of patients. Grinds to a halt: you are looking at the screen not the patient. Both patient and doctor have to sit and wait for the machine to do something, despite dual processor desktops.

It is also a partly hosted solution and that seems to slow it down further. It can take many seconds for things to load.

The drug screen is very poor, and I miss the details and prompts that are provided by clinical systems using the Multilex database produce by default.

The most irritating thing for a non-EMIS user is the insistence that entry in fields is not enough to save the data. One has to press F8 to "save" all you have done before being allowed to move onto the next patient. A pointless step which must have developed with the old MUMPS technology. With SQL it should not be needed.

The are many other pointless key presses. The appointments system does not seem to realise that you are seeing the patient or you have seen him. You have to tell the system manually and press more keys.

Fields do not seem to be linked, so you have to put stuff in twice. Here is the BMI screen which despite the fact that the data is on the system (left in black) it demand that you put it in again to calculate the BMI! I assume a superuser can fiddle with the templates to avoid this, but it is a stupid default.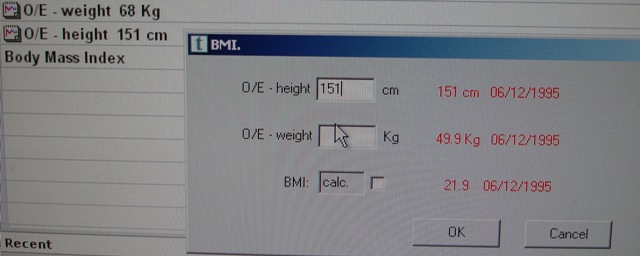 Getting data out of the system is complex. I have not been able do a search send all the data to a comma deliniated file to put into my own programmes to manuipate the data further. You can print out pre-defined letters, but it is a manual process loading it to word first before printing. Printing to pdf or windows image writer, it asks for a file name manually per patient! I cannot see how to save a search result as text and merge the output into a single file.

The default method to attach correspondence (scanned documents) to the patient file means that it is not visible to the user in consultations. It has to be attached to a consultation for letters to be visible on the patient screen; extra steps.

Below is my hand held camera that gives an idea of my problem with EMISPCS.


icotest is the best. It is the fastest system. Microtest Evolution is the bees knees



http://www.microtest.co.uk

Contact me here